02-09-08. It was a Saturday morning in February and we were off for our morning workout in Milford. As we arrived at the club, I spotted a red-tailed hawk perched in a tree along the Upper Charles Trail, which runs behind the building.
On came the familiar, "Why didn't I bring my camera?" frustration and lament. I hate to miss opportunities to photograph birds, especially this beautiful hawk. I have a few hawk pictures in the collection, but not a real good one. And I'm of the warped "if I don't have a picture of it, it doesn't count" mindset (which I've tried to work on, without much success).
Later that morning, Peter got a call from his dad who needed a prescription refill picked up. He asked if I wanted to go along for the 44-mile ride to Leominster. Not really, but still ruing the missed hawk, I said, "OK, but only if you stop if we see a hawk along the highway." After years of experience Peter knows to go along, humor me, keep peace.
So we're on Route 146 going north around Sutton — there's one in a tree! We happen to be going 75 mph and already past it before I say something.
"What do you want me to do?"
"Pull over!"
OK, so what if we were in the left lane, the shoulder was narrow and it was back a few hundred yards.
Another missed shot, damn.
We're past Worcester, going north on 190. 'Round about West Boylston, there's another hawk! And once again we're whizzing on by. A few miles later, another one soared overhead ... at that point I'm resigned — we're almost in Leominster. No hawk for me.
We went into a CVS to get the prescription. As I headed out to the parking lot, I had trouble processing what I saw in front of me. Just beyond our car, on a power line, larger than life: a red-tailed hawk. Suppressing my urge to jump up and down, I pointed it out to Peter who was trailing behind. He laughed: "That's too easy!"
Easy? I think not! I stealthily grabbed my camera from the car. And the shooting began.
Finally ... right time, right place, right lens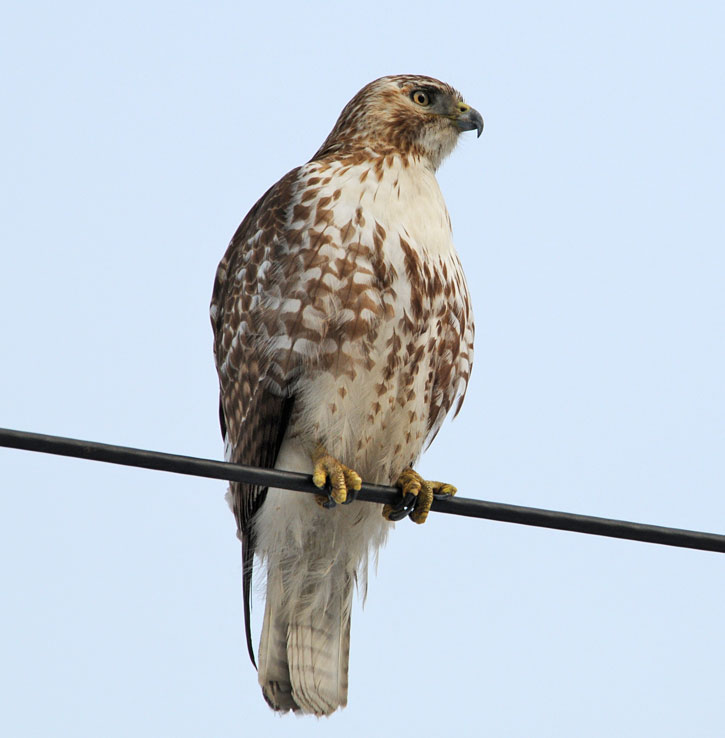 Eyes like a hawk.

Talons designed for hunting.

Something has his attention ...

Suddenly he's down on the snow-covered ground ...

and taking off with a victim (I'm glad this is blurry).

At another location to eat ...
(My Uncle Rip pointed out that this is an immature hawk so his tail is not red yet.)


02-11-08
So ...! It's two days after the hawk sighting above. I heard some unusual squawking
outside. I looked out our kitchen slider, and couldn't believe my eyes!
An adult red-tailed hawk was perched in the tree next to our deck.
I've rarely seen a hawk in our yard and this one seemed to be waiting for me.
From famine to feast, the hawk gods are smiling on me ... they are everywhere I turn!



02-21-08
A week and a half later. I looked out the kitchen slider in the morning, as usual,
to scan the area. My eyes froze on the Russian olive bush ... where a sharp-shinned hawk was perched, scouting the feeders for prey! Now this made sense because there are so many small birds around all the time. But in almost 20 years here, I'd never seen one. There's something strange going on. My friend Cindy, who is studying Egyptian symbolism, tells me that seeing hawks all the time can mean an increased psychic ability. I am Anxiously Awaiting Clarity ...

Not the best shots, at an angle through glass, but you get the picture.