Italy was just as fantastic the second time around ... by luck or good planning, we had a perfect trip. One week in Roma on foot, and one week around the countryside and villages of Sicilia by car. A good balance, great weather, Italy glowed. No detailed travelogue this time, but several slideshows where pictures tell some sort of story. And some general thoughts and observations:
Driving in Italy is like being in a video game. Cars, motorbikes, people, funny little vehicles, annoying massive vehicles ... anything can come at you, from any direction, at any time. You're not allowed to get upset, you must just go with the flow (or stop with it, depending). It helps tremendously to have great reflexes and nerves of steel. Walking is no picnic either, but there is an interesting phenomenon. No matter how fast the traffic, or how busy the road, if a pedestrian wants to cross and steps off the curb, cars stop. It's a little hard to trust this ... but it works! (One caveat: where there are traffic lights, wait for those to change.)
Is there a more magnificent, fascinating city than Rome? It hits on all cylinders, for all nationalities. How great to just walk out our hotel door and have Rome in front of us ... the freedom to roam and explore on our own, with no chance of going a "wrong" way ... an incredible experience.
Don't pack shorts when going to Italy unless you want to be instantly pegged as uncool tourist and (most likely) American. It could be August and 95º in Rome ... they don't do shorts. Despite warm temperatures, we succumbed to the "pressure" to conform this time around (ignorant on our first visit) while walking miles around Rome. But in Sicily, Peter said the hell with it, wanting to be comfortable. I put shorts on also — it got downright hot on a few days.
Sicily is beautiful, bountiful, diverse. Glorious mountains (especially Monte Etna), wonderful medieval hilltop villages, Greek ruins set in incredible locations, spectacular coastal vistas. Rich soil that grows olives, grapes, lemons, oranges, almonds, pistachios, prickly pear. Then there's the flavored honey, fresh seafood, colorful ceramics ... it's sensory overload.
We saw very few overweight (much less, fat) people among Italians and hundreds of tourists from all over the world.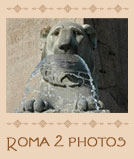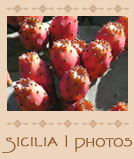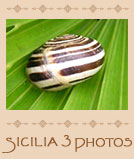 Some people go to Italy for the food and enjoy relaxed, sumptuous dinners. I was starving every day by 5:00. That presented a problem when most ristorantes opened at 7:00 or later. (7:30 or 8:00 in more rural areas of Sicily!) Therefore, we ended up eating gelato, pizza and/or panninis on the run almost everyday. In Rome we did find places that opened earlier for dinner, thankfully. But the upshot: miles of walking, light meals and regular hunger: three pounds lost on the trip. That's my diet tip.
When a tough-looking waiter in Palermo, Sicily tells you to finish your anchovies and that you can't have cheese on your seafood pasta, nod and go along.
In Rome it was the cats. In Sicily, the dogs. Strays everywhere we went. I'm a bleeding heart when it comes to animals and had a hard time with this. At least in Rome, we saw the Torre Argentina Cat Sanctuary. But the dogs, the dogs. We would order food with the strays in mind, and fed the animals when we could. It's a sad and terrible problem.
Don't stand near the door in a Rome Metro car unless you want to get shoved (hard) in the back by a commuter in a hurry to get off.
When we planned this trip in March, I was only focused on using my frequent flier miles at the earliest possible date (Oct 15). Alas, in my single-minded state I didn't think about what we'd be missing at home during that time. The playoffs and World Series. But really, no big deal, right? What were the chances that this would be THE year? After we arrived in Rome, we got the news that the Red Sox were slaughtered in Game 3 of the ALCS by the Yankees. That's it, we thought. But you know the rest. That never-surrender team came back to win, and win, and win, and win. During their comeback, we desperately watched the annoying scroll at the bottom of the CNN (Europe) screen every morning waiting for the score. Then went to a nearby Internet point to read Boston.com. In every church we visited, I'd say a little prayer for the Sox. And at the Vatican, we climbed every step of the 448 feet to the top of St. Peter's dome — our offering for a victory. And curse-defyingly, magically, miraculously — the Red Sox believed in themselves ... and delivered a championship for all of us.
(p.s. Getting on the plane in Rome to come home, a fellow American saw my Red Sox shirt and said, "You've never been able to wear that this late in the season!")