We ran along the Port Angeles waterfront on our last full day in the Northwest. It was wonderful, invigorating ... a bit cooler than my normal low temp limit, but I hardly noticed as my attention was held by the Strait.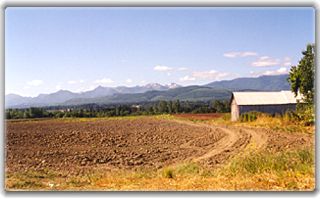 We drove east through Sequim ("skwim"); it's just a few miles from Port Angeles, but has a very different environment. Sequim is located in a magic valley in the rainshadow of the Olympic Mountains, which means most of the moisture is sucked from rain clouds before they reach that spot. So unlike most of the rainy Pacific Northwest, Sequim is protected — warm and sunny most of the time. That it's different is apparent right away ... golden fields, rolled hay bales, lavender farms, but still the snowcapped mountains are a backdrop.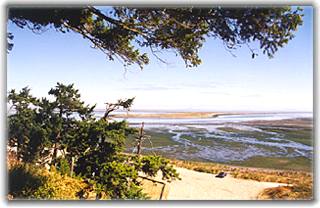 There the Dungeness Spit extends far out into the Strait, the longest natural sand spit in the US. We were able to see Mt. Baker (10,778 ft), way to the northeast, because the day was so clear. We also hoped to see some of the famous elk herd that visits Sequim on occasion, but no sign of them. As we continued west, the terrain got steeper and greener and we were back to the "normal" northwest. We were on the way to Bremerton to catch a ferry for Seattle. It was a great day for a boat ride ... not a cloud in the sky.

No worries as we reached Bremerton and drove onto the ferry; lots of people were headed to the city on this Saturday morning. We stayed outside on the very windy upper deck and enjoyed the sun and scenery. Gulls flew right alongside the rail, knowing snacks were to be had. They were expert at snatching chips out of bags and fingers — entertaining performance!
The ferry threaded through Sinclair Inlet then into Rich Passage as we rounded the southern end of Bainbridge Island. The Olympic Mountains were to the west, then suddenly Mt. Rainier appeared to the south. It was an impressive, massive sight as it stood solo and unobstructed... it seemed to not really be there, it was more like a hazy mirage.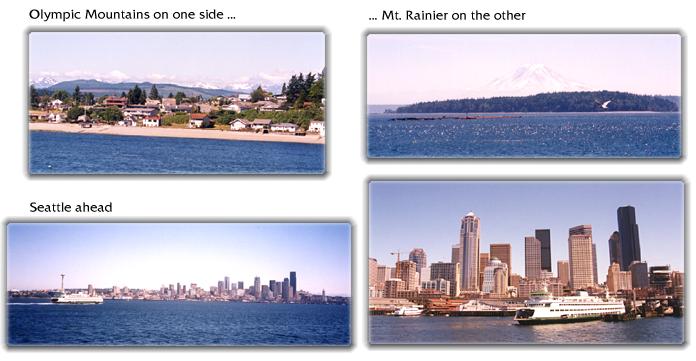 Turning northeast into Puget Sound we saw it in the distance. My first thought was, are those pilings? No dummy, those are the skyscrapers of Seattle. It's so interesting seeing a place for the first time in person. You form impressions from pictures, TV shots, etc., but they can't place you there physically and psychically. It felt different than what I'd imagined. Different good — now I got it. So that's where the Space Needle was in relation to the downtown, there's the Bay, the mountains. We got oriented as we entered Elliot Bay and homed in on the waterfront.
We had limited time in the city, so decided on a couple key stops. First was Pike Place Market. Much more earthy and interesting than Quincy Market in Boston (sorry) — it seemed to have retained its true market roots. Great fresh fruits, vegetables, and the seafood! The hawker at one fish stand could've been the fourth tenor.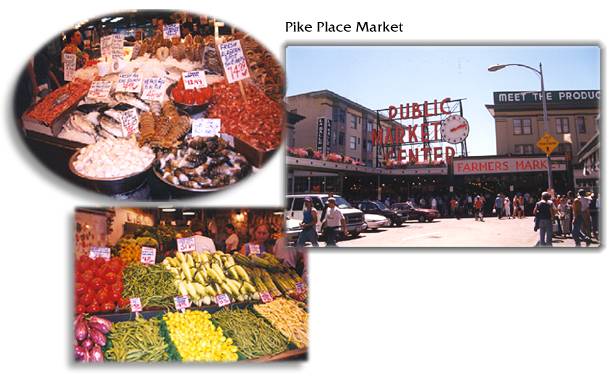 We had lunch at a restaurant overlooking the market area. And noticed Seattle does the flower thing very well also — large, colorful boxes lined the market rooftops. Such a nice touch, more cities should dress up like that.
We decided to walk from the market to the Space Needle, our next stop. A bit further than we expected, the Needle seemed elusive and far off as we spotted it above and between buildings as we stalked it. We did get a better feel for the city on foot ...
I hadn't realized how much was around the Needle ... it's only one part of the Seattle Center. There was a museum, a science center, and the monorail runs through the area. And, just opened, the Experience Music Project — a bizarre crazy-quilt structure that Paul Allen backed. The line to go up in the Space Needle was long — a 45 minute wait we were told. Well, how often was I in Seattle? I stayed in line, Peter hiked back for the car.
And surprise: instead of being a longer-than-promised wait like I'd expect anywhere else on the planet, it was only 15 minutes and I was whizzing up to the Observation deck of the 520-foot high Needle.
It couldn't have been a clearer, better day to be up high. A guide mentioned that this was one of only 40 days during the year that Mt. Baker could be seen. Lucky me. Seattle and its defining water bodies were sparkling; this was one beautiful setting for a city.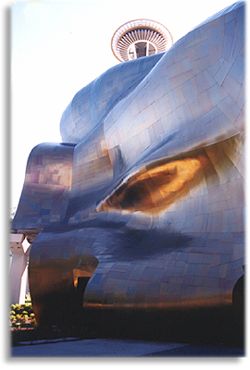 After circling the Needle top several times, I headed down. I found Peter and we rushed over to the Experience Music Project for a quick look. It was hard to figure out which end was up, but its unusual exteriors made for some cool juxtapositions. My favorite was the shiny, wavy section. We didn't have time to see any of the exhibits so I can't give EMP an interior review, but if it was as labrynthian as the outside, covering it would require a concerted effort.
We were headed to Kent; Peter's Aunt Mary had offered us a room in her condo on our last night. We made a stop on the way to purchase an extra suitcase; I had exceeded my quota of new stuff.
We had a good Chinese dinner with several more relatives (thanks, Mary & Kathy). It was a nice way to wind down and start the mindset shift needed to leave the next morning ...
It was a short, oh-so-easy ride to the airport. (Logan is great for making one appreciate the well-located and -designed airports.) We got a parting gift as we took off for parts east: our best view yet of Mt. Rainier, and further to the south other Cascade giants — Mt. Adams and the damaged silhouette of Mt. St. Helens.
It was a fitting exclamation point on the trip. My Pacific Northwest angst and yearning had been satisfied in spades — at least for now.

---
© 2000 CCarnovale Home | Web Design | Graphics | Photos | Travels