High on Tab
I'm hooked .. line and sinker, too. On a sultry July night, we saw Tab Benoit (again) at Chan's in Woonsocket, RI. This time Ray, because of his friendly relationship with owner John Chan, got us the best table in the house. At least from a photographer's perspective — I was literally a foot from the stage (and an amp!). It was a thrill and an honor to be so close to Tab and his band. Such talent, energy and excitement, it was an out of body experience. Tab was in top form and performed many great rockin' and soulful blues numbers ... the joint was jumpin'! (Slideshow here.)
During the break, Tab was on the sidewalk outside the restaurant talking to fans. Extremely generous with his time, he makes everyone feel special and accommodates all photo and autograph requests. He signed my CD and shook my hand (be still my heart). He's very concerned with the problems of his home state, Louisiana: the destruction of the wetlands and the Katrina fallout, and is an activist in raising awareness and money to help. He couldn't be more of a genuine guy, and deserving of much (more) fame and fortune. It's amazing that we could see such a fantastic show, so close to home, for so little cost! As he joked with the crowd in a mock NE accent (on top of a Cajun drawl): "This is a BAAH-gin!"
At the end of a long night (over three hours of music), you'd think Tab would be running out of steam, right? For the encore, he thought for a moment (he always decides on the fly) then played this. Wowza. Hearing loud music at very close range for so long left my ears ringing for days after ... but for such a rare, unbelievable high, I'd do it all over again in an instant. Can't wait for the next time at Chan's ...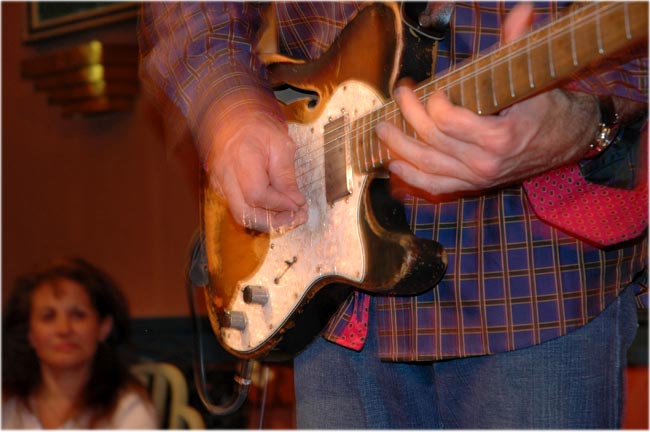 A guitar master
Family and Fireworks
Arthur came down for a cookout (in) on the Fourth, and we saw both natural and man-made fireworks. Some crazy weather blew through with 60 mph gusts and torrential rain. Our flag pole was bent in half by a down draft and we cycled through running inside, watching the drama, wiping off the deck chairs and sitting out, then running in again, and so on.

Fireworks over the lake ... the view from our deck.

In between rainstorms on the Fourth.



Peter does dock repair ...

and tree trimming (as seen from the kayak).
Local Pleasures
We've stayed pretty close to home this month (family trip coming up soon!), and have enjoyed the nice weather around the lake and area. Arturo came for a weekend visit and he and Arthur were down for a day on the lake. The guys went swimming, then I added to my tally of family/friends taken to Lookout Rock. It was a buggy (for me) short hike, but ka-ching: two more added to the list. We had a nice dinner on the deck if I do say so myself — I cooked! (Scallops & tomatoes over pasta )... it was a good day, especially for Arthur, I think.
Peter got to some yard chores during his week off ... the dock is fixed, hallelujah, and the trees are trimmed. All the current work orders have been completed — though that won't last long.

Peter, Arthur and Arturo on Lookout Rock.

Out on the lake.



Duke howls as we walk by.

Stink chillin'.

We had a nice visit in Lancaster with Tom & Liz ... and a great meal: slow-cooked ribs, potato salad and blueberry pie on a hot summer night on their neat porch. I saw my first male grosbeak at their feeder and got a blurry photo for the record.
I played golf for the first time this summer with Peter & Billy at Hopedale CC — and did predictably, typically, not so good. I'll try to get to the driving range for more practice before our tournament ... it won't help, but it's what you do when you screw up.

Rose-breasted grosbeak in Liz & Tom's yard


At Hopedale CC with Peter & Billy

Barn swallow

Ruby-throated hummingbird

Mourning dove
We'll be very busy early next month, beginning with the Magical History Tour ... a salute to Mom. Here's a little preview ... our logo: