Family time
The arrival of Krisanne, John and Lori in July meant for some good times ... the triggering event

that brought them north was a party/cookout to celebrate Erin's high school graduation — a bit delayed so everyone could come. It was a family-only event, which, because of Tina's four sisters, two brothers, spouses and many kids, meant a big group. It was a beautiful, hot day full of food and fun. I'm impressed with how poised and polite Erin is (Tina's influence, obviously). She's had a job at CVS for the last two years while going to school (and getting great grades), and playing sports. She'll be going to UMass-Dartmouth at the end of August. Her parents (and aunts & uncles!) are so proud of her ... where has the time gone? See the Family Photos.

Erin ... through the years in her school photos.



Tina, Krisanne & Lori

The brothers Carnovale
The night before, on Lori's birthday, we'd walked to Alicante for dinner, then went on to Chan's to see Nick Moss's band playing with Lurrie Bell — all Chicago blues musicians. Everyone agreed: great show ... and it was recorded for a future "Live at Chan's" CD & DVD. It was neat to be there with my family ... and as usual, Ray & Nancy — good vibes all around on a magical night at Chan's. See the Night Out Photos.
| | |
| --- | --- |
| John Chan delivers again ... | Lurrie Bell & Nick Moss — "awesome," said John. |
Summer Days
We've seen a lot of Billy and Deborah ... Debbie hosted a Fourth cookout and we've gotten out for golf a few times at Hopedale CC. Shes just learning the game and doing well. I'm enjoying golf more this year... it's been easier to get out on a course close to home, it hasn't been crowded or too slow, and I'm playing a bit better.
We tried to get out with Liz & Tom one Saturday afternoon, but it was during that long stretch of unstable, thunderstorms-may-pop-up-anytime weather and we got rained out. But we compensated by going antiquing which thrilled Peter to no end. See Summer Misc Photos.
| | |
| --- | --- |
| My deck companions ... a male house finch ... | and a female. |
| Female red-winged blackbird ... | and the more aptly-named male. |
Kitty Chronicles
It's been a crazy, busy time at Milford Humane. A very active kitten season combined with many people losing their homes and having to give up pets has caused an overwhelming strain on the shelter's resources and volunteers. But the situation is improving as many kittens are ready for adoption and the incoming flow has slowed.
During the stretch when the shelter was full-up we took care of one cat in our garage for a couple weeks. That was Georgette — she had been abandoned outside and unfortunately got infected with FIV. She was very scared, but was affectionate, and seemed to really enjoy the safety of her cage. I wish we could have kept her ... she's now at the shelter in the Special Needs room.
No sooner had Georgette moved out than I got a request from Barbara, MHS's director: could we be foster parents for a young kitten that was left at a day care center? She was only 5 weeks old and had also tested positive for FIV. The good news was that it was most likely a false positive, due to the mother's blood still in her system.
So that's how Clara came into our lives ... a little spitfire. She's in a cage (for her safety & ours) but gets regular play time on the big cats' turf, and has certainly put her mark (read mess) on things. We're keeping contact between her and the others to a minimum (until she's re-tested), but so far she's getting mixed reactions. The older guys don't always appreciate her in-your-face, non-stop attempts to play. But it looks like she may be around awhile ... See Clara in Action.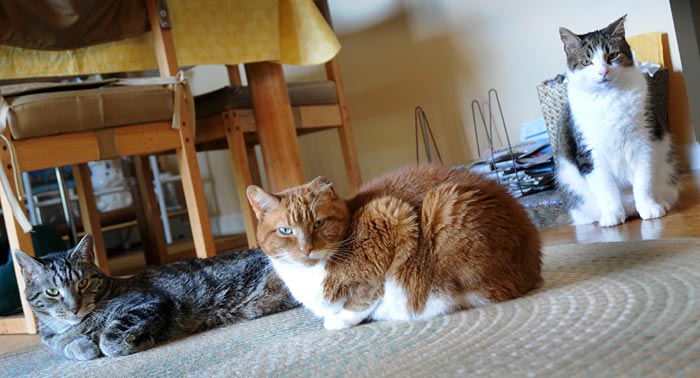 The brothers have banded together to face a new challenge ...

What — who, me?
Happy Anniversary
I love and appreciate living on this lake even more than I did 20 years ago, when I moved here in July 1988. (Peter arrived in 1990.) I never get tired of looking at the water, the reflections, the wildlife, the changing sky and seasons. Here's to another twenty ...


Lake effects ...


Not so natural.