---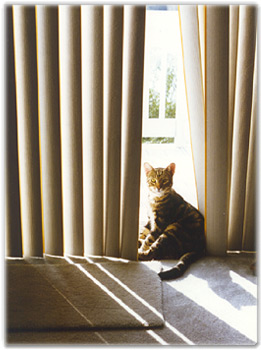 Background: Our number one son ... My sister Krisanne called in May, 1994; she had found a stray cat in her back yard — he had made himself a "nest" in a corner. Could we take him? From the start, he was sweet, fun, and affectionate. The vet said he was 3-4 years old then, so you can do the math.


Personal

:

Since he was an outdoor cat when he arrived, that's what he's stayed, though his time outside is "supervised" and only happens when we're home. He loves lounging on the deck, especially when he has company; and enjoys the picnic table (scratching), dock, and patrolling the lake front. He'll follow us around the yard, come when called (usually) and is a great companion (must have some canine genes). Inside .. though generally well-behaved, sometimes can't help himself: he's put his mark on new molding, doors, and leather furniture. He also sees his younger sister, Lucy, getting away with new tricks (more below) and this gives him ideas from time to time.
Accomplishments: Has become a great cat (says Peter) — a model for any kitten coming up to aspire to ... Gets along well with his sisters (and previous "siblings"), and they have fun together (from grooming to wrestling to chases). Is as playful as ever, with more intense tail chases than in his youth. Is equally adept with soft or plastic balls, string, pens, wrapping paper and boxes. Is loyal and loving to a fault. Ambassador status allows him to roam freely throughout all territories (more below). A.k.a. buddy & puddyhead, he's the best.


---

Background: Came from the Milford Humane Society in May, 1997, though she was none too happy about the selection honor and had to be dragged from her cage. Her striking colors and sad, beautiful celadon eyes were the deciding factors. Two years old at the time, she had been in the shelter since being captured as a feral kitten on the streets.
Personal: Very shy and afraid of everything then, still shy but more comfortable now. As mentioned, her feral background still seems to affect her behavior, though I think she's milked it for all it's worth — she wasn't "wild" that long. We cut her more slack than the others, because of her "fragility" — she rarely gets yelled at. When there's an outsider in her house, she disappears. With time, she may emerge to share the pleasure of her company. She loves to be combed, and now demands it with loud squeaks, every night. A setback came with the arrival of a new little "sister" (more below). Sara is now an upstairs-only cat, and she's made herself comfortable in new, "creative" ways.


Accomplishments:

Has come a long way as far as trusting us, and wanting affection. She surprises us with her playful spurts; she's a master at chasing string, with quick, sharp turns in a tight circle. She idolizes her brother Wiley, and tries to engage him in chases and grooming moments (he may or may not oblige). She's an amazing sprinter, going from zero to 60 in mere seconds. Since claiming the upstairs, she has defended her turf with vigor, against youthful invaders. Her exotic, unique poses and body shape inspired the Milford Humane Society logo. A.k.a. sweetie, she's way too smart and intuitive.


---
Background: In November, 1999 I saw a picture of a year-old cat in the paper — she was at the Ashland Animal hospital waiting to be adopted. This was the little orange tabby we'd been wanting. At the interview, she impressed us with her friendliness, and she was sooo cute! So, we had three cats again ...
Personal: Looks can be deceiving: our little angel turned out to be quite territorial upon arrival. She got along with Wiley immediately, but Sara ... well, not so good. She must have sensed Sara's timid nature and chased her away from wherever she pleased. Eventually this led to Sara's retreat to the upstairs. Now we have separate camps ... Lucy dares not venture up the stairs as Sara will charge down at her, protecting her new turf. So Lucy, you reap what you sow.
Accomplishments: As Peter likes to say, "She's made some mistakes ..." but now seems to regret her early behavior. She looks longingly up the stairs at Sara and seems to want to get along. Maybe someday (we hope!) Sara will forgive. Meanwhile, she thrives downstairs with entertaining games of chase, boxing, and king of the mountain with Wiley. Other not-so-appreciated tricks include jumping on counters, tables, shelves, and on top of the TV and refrigerator — no place is too high or too small for her. She's invented her own game after lights out: knocking magnets off the refrigerator, singing loudly, then picking them up in her mouth and carrying them off. She has a sweet southern twang, enjoys giving chest massages, and climbs on laps when she wants affection. A.k.a. cutie & twerp, she's our golden girl.
---
© 2001 CCarnovale Home | Web Design | Graphics | Photos | Travels | At Home