The Sun Shines on the 3rd Annual VOW Weekend Classic!
It was a great one-two punch for the Voice of the Wetlands cause on a beautiful New England weekend.
It began with the benefit at Chan's where the packed house was treated to a fantastic show by Tab, Corey and Trey. Tab played many songs from his great new CD, Medicine and entertained with comedy reserved for Chan's friends and fans only!
Saturday was a full, fun day at Valley Country Club. We had many out-of-town visitors this year including special guests from Tab's home town of Houma, Louisiana.
Golfers enjoyed the fabulous summer weather as they made their way around the scenic course, playing a team scramble. See the Tournament Results.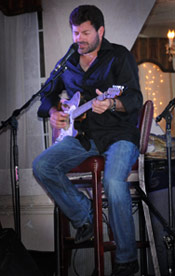 More friends, fans and guests arrived in the evening and enjoyed a fantastic night of Cajun food, rockin' blues and dancing. Ray and Dave (Pick & Noodle) started the music, then Tab and the guys put on another great show. Tab invited guitarist Johnny Boots up to play a few numbers with the band.
Over $6,500 Raised!
The official tally is still being calculated but so far, event participants have raised a net contribution of $6,500+.
There are many people to thank: volunteers, donors, sponsors, golfers, and especially Tab, for his tireless work (and play!) on behalf of the Louisiana wetlands.
See all the event photos here. Unless otherwise noted, all photos were taken by Carole Carnovale (CC) and Phil Ricchiuti (PR).
PR
Tab with his team, George Pirie, John Chan & Ray Harrison.
If you have questions, comments or ideas for next time around, please drop us a line. Thanks again to everyone who participated. And don't forget the annual Voice of the Wetlands festival in Houma, LA, October 7-9, 2011. Visit the VOW website for more information.
Tab at Chan's on night one of the VOW Weekend Classic.